Since slowly transitioning to a more zero waste lifestyle, I've changed a lot of my habits to be better for the planet. Today, I'll share my tips for a zero waste dog.
By the end, I hope you'll realize that going zero waste or plastic free with a dog isn't as hard as you might have imagined.
Whether you're buying dog food in bulk, learning about the best dog poop bags, or finding sustainable toys that won't be landfill-bound the next day, I'll cover it all in this post!
Obviously, the most important consideration is firstly your dog's health and well-being, but you'll see that once you know where and what to look for, you can easily make sustainable swaps and be on your way to a zero waste dog.
Similar to my post on the zero waste cat (I have 2 cats too!), we will be focusing on how to minimize waste through bulk sizes, re-using existing household items to become dog items, and only buying high-quality products. Without further ado, here are my best tips for how to live zero waste with a dog!
Disclosure: This post may contain affiliate links, which means (at no additional cost to you), I will earn a commission if you click through and make a purchase.
Zero-Waste Dog Food
Buy Bulk Dog Food
Very few people at the moment will have access to a bulk store that sells pet food so let's focus on buying dog food in bulk sizes for individual use.
Besides, it's important to remember that a bulk store does not automatically mean a zero waste store. Some stores simply open up the same product you can buy from the store and pour into their bins for the convenience of customers who want to purchase a smaller quantity at a time.
Even if the stores get some sort of bulk size to put into their bins, there is generally still some sort of disposable packaging for transportation.
Just because one never takes ownership of the packaging does not mean one is "zero waste". That's what's so frustrating to me when people like to show off their "year of trash in a jar".
Instead, I like to take "bulk" into my own hands and purchase my dog food for my home in the largest size available.
Here are some of my favorite options:
What I mean about my dog's health coming first is that I'm not just going to buy the most economical, largest-size bulk bag of food just because it minimizes my waste the most. I'm going to find high-quality food that suits my dog's preferences, considering packaging animal welfare, and ecological impact.
Other Good Dry Dog Food Options
If you're looking for a high-quality kibble, here is a list of other ones that I've either tried myself or seriously considered:
Zero Waste Wet Dog Food Options
For high-quality wet dog food, here is a list of ones I've considered:
If you're looking to choose a dog food and are wondering about the quality of ingredients, I highly recommend the site Dog Food Advisor to help you with your assessment. All the ones I recommend above have been vetted to include only those with the top ratings (5 stars) of the time of publication.
Pro tip: upcycle a large air-tight container. I use something like this to access my dog food on a daily basis without constantly opening the entire bulk bag and risking it go stale.
I'll pour out a large portion of the food into my upcycled container. Then, I roll out all the excess air in the bulk dog food bag, fold a few layers down, then clip it with a binder clip. This method keeps the food super fresh for a long time!
Multi-Purpose Treats
Bonito Flakes
As I mention in my Zero Waste Cat post, I love sharing my bonito flakes with all of my pets. Bonito flakes are shaved slices of dried fish used in Japanese cuisine. I purchase this from Amazon (no, you do not have to get my ones labeled "cat bonito flakes".
Just make sure the ingredients are 100% bonito, with no added salt, smoke, or preservatives. The great thing about bonito flakes is that if either my cats, dog or I (unlikely) stop liking bonito flakes, it won't go to waste. The other ones will gobble it up with delight!
Double-Duty Treats
If I'm purchasing pet-specific treats for my dog, I'll favor ones that have dual benefits. I first got the idea as my dog enthusiastically waits for me to give her oral flea medication. She happily gobbles it up – why not serve other positive benefits if I'm giving my dog treats anyways!?
For example, this turmeric treat is great to strengthen your dog's immune system and acts as a preventative against future arthritis pain.
Alternatively, this salmon skin treat is loaded with Omega-3s and will help your dog achieve healthier skin and coat. They call it a dog chew, but I don't consider things chews when they don't survive more than a minute of chewing 😉
It's made by my absolutely favorite company (The Honest Kitchen). If your dog ever has loose stools that need to be firmed up immediately, sprinkle some of this magic powder with your dog's next meal and presto – all fixed!
Healthy Dog Chews
Most dog chews that you purchase these days come with little or no packaging, so this isn't a category I'm too worried about.
The only thing I want to mention is to make sure you avoid rawhide chews and bully sticks. Avoid rawhide because they're unhealthy (uses a chemical-laden process of manufacturing them) and are dangerous (presents a choking hazard).
And avoid bully sticks because do you even know what they're made of?!
If you want healthy and eco-friendly dog chew inspiration ideas, here's my post where I go through this in complete detail.
Drink Lots of Water
Tap Water
My pets and I all drink tap water because the testing and standards for tap water are actually higher than that of bottled water. You can learn how safe tap water in your municipality is here. You might find some contaminants that are not at ideal levels but considering the fact that bottled water doesn't even need to undergo this testing, you're still most likely better off with the tap.
I love the two stainless steel bowls that I wash daily with my dishwasher load. Check if your local thrift shop has these available – if stainless steel is not available, any non-plastic bowl will also work.
Zero Waste Method of Disposing of Dog Poop
Using Dog Poop Bags
Dog poop bags are one product where I think green-washing has gotten way out of hand. So many companies manufacturing plastic poop bags are labeling them as "eco-friendly" and "bio-degradable" when they are not.
Most "eco-friendly" dog poop bags are just normal plastic that is infused with heavy elements that will break down the plastic bag into smaller pieces not visible to the naked eye. Because it's not visible, the claim is that the bag has somehow biodegraded, but really, it's just turned into microplastics!
Learn the difference between fake biodegradable (i.e.oxo-biodegradable certified ASTM D6954, commonly using EPI technology) and truly biodegradable (certified ASTM D6400)!!
How to Dispose of Dog Poop Without Plastic Bags: Dog Poop Compost
Alternatively, if you have access to your own outdoor space, you can compost your dog poop. The EnsoPet system created by Bokashi is simple to use and is hidden right in the ground. I won't speak to this much as I haven't had the opportunity to do this.
An important thing to note is that you should not mix pet waste in with your general food waste as the resulting fertilizer from pet waste cannot be used in or near food-bearing plants or near water sources.
Reusable Lint Roller
If you have a dog that sheds a lot, you'll understand the struggle of preventing this fur from going EVERYWHERE! Here's how I combat it.
The ChomChom roller is an amazing and environmentally-friendly way of removing pet hair from large surfaces. You need to apply a reasonable amount of pressure though so it does not work well with clothes.
The velvet lint brush is useful because if you brush one direction, it will pick up pet hair; brush the other way and the hair comes off the brush. Both are good solutions for living zero waste with a dog.
Consider a Powerful Vacuum Cleaner
When I moved to the U.S. (from The Netherlands), I needed a vacuum cleaner for my all hardwood floors apartment. Living zero waste, I didn't want to rely on disposable Swiffer wipes. I also hated finding my own clumps of my hair in my laundry machine from washing reusable floor rags. I opted to invest in a good vacuum cleaner and sought out a Dyson.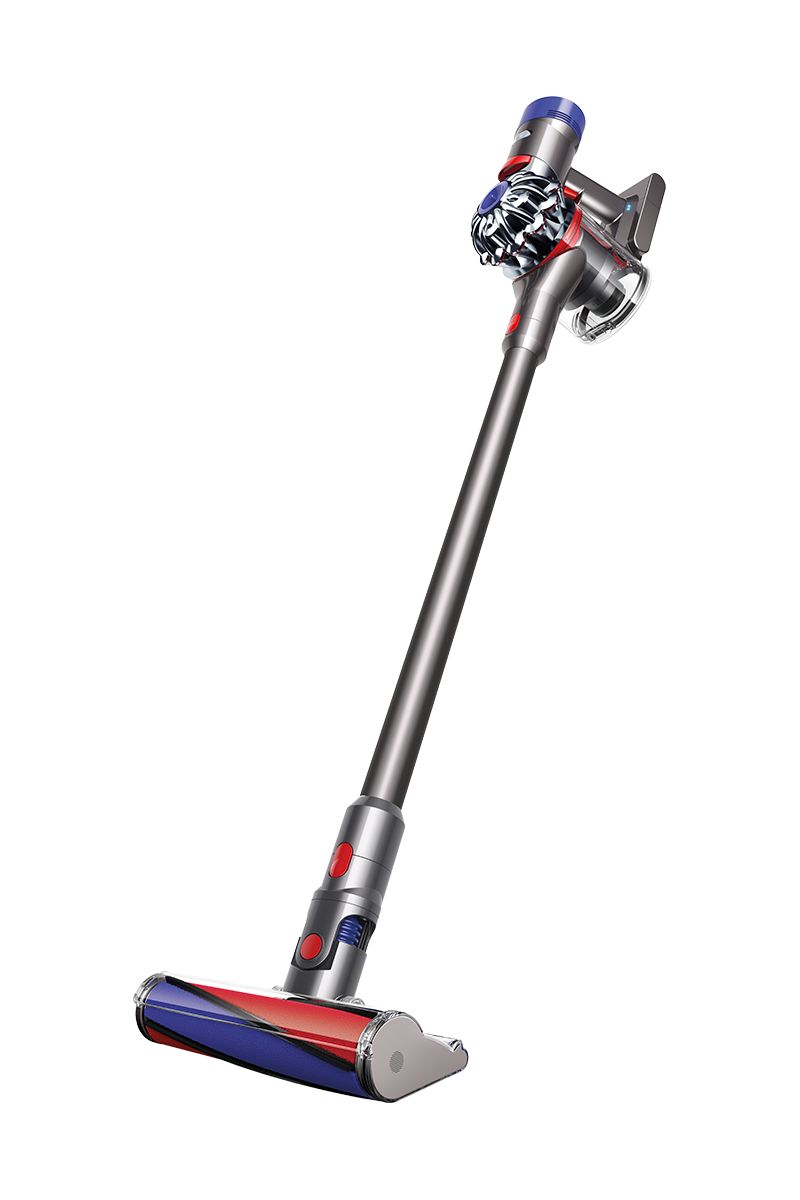 I think I could get a sufficient vacuum cleaner at half the price but if I ever had to move overseas again, it would get little to no interest in the secondhand market. If I had to sell my Dyson vacuum a year later, I know I'd find a good home for it because the demand for high-quality products in the second-hand market is always strong.
And I ABSOLUTELY LOVE my Dyson V8 Absolute vacuum. You can read these reviews on Amazon or you can purchase directly from the manufacturer's Dyson website. I purchased from the Dyson website because it came with a longer warranty and extra cleaning tools. The tool that I love to use on my furniture is the "Mattress Tool" because it has a low profile to drive all the motor power to really suck up all the fur stuck on my cloth sofa.
Zero Waste Dog Toys
Just like with human babies, there's a HUGE toy market for dogs because we love to spoil ones we love with gifts!
As I started prioritizing taking my dog out for more walks, I've felt less inclined to buy her random toys. In fact, she's generally pretty exhausted from our walks and distracted by her dog chews to even play with the toys that she has at home.
Instead of buying tennis balls that get ripped up or grimy, I will throw my dog a stick from the ground and my dog will run after it enthusiastically! If my dog doesn't bring it back to me (she's not very trained at the game of Fetch… she much prefers the game of Keep-Away), no worries, I've already found another stick to get her attention. FOMO! She drops her old stick in favor of my new one 🙂
I do have one "stuffed" animal for her to play tug with.
If you insist on some dog toys, here are my favorites:
Outward Hound – Hide a Bee: This is my dog's absolute favorite toy that I got her when she was a puppy. It's a beehive stuffed with 3 bees. Because there are 3, every time one got too dirty or tore a bit at the seams, I took that one away to sew it up before the tear got too big. After 4 years when I patched it up too many times, I started stuffing tennis balls into the beehive for just as much fun. But the nice thing is that you can also purchase replacement bees themselves. It's been a very long-lasting toy – well worth the cost.
Toys with no stuffing are nice because you don't have to worry about stuffing going all over the place when your dog inevitably rips open a stuffed toy. Check out these cute animal squeak toys.
Or you can DIY a simple rope toy or upcycle your accidental water bottle purchase into a crinkle toy with these creative ideas.
Do you have a Zero Waste Dog?!
Did I miss any of your must-have products? Do you have a better zero-waste solution for any of these categories? Let me know!
For more zero-waste dog tips and tricks, follow my Dog board on Pinterest! Also, save the pin below to keep referring back to this checklist as your cat gets more and more zero-waste!